HERMES
Heritage Rehabilitation as Multiplier cultural Empowerment within Social context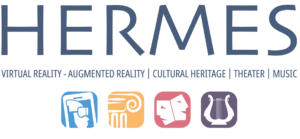 Website:  hermes-culture.eu
Project Code: 5003574 (MIS)
Implementation Period: 20/05/2019-19/05/2021
Scientifically Responsible: Prof. Chrysostomos Stylios
Total Budget: 2.624.107,23€
Budget for University of Ioannina: 345.322€
Partnership:
LB Municipality of Fasano, Italy
PB2 Apulian Public Theatre Consortium, Italy
PB3 Polo Museale della Puglia, Italy
PB4 Hellenic Ministry of Culture and Sports, Greece
PB5 University of Ioannina- Research Committee, Greece
Associated Partners:
Puglia Region – Department of Economics of Culture, Tourism and Territory
Short Description:
The archeological sites and museums are places that collect, document, display and preserve creations of art and science where members of a society can learn, research and make connections between the present, the past and the future. The HERMES project aims to interact with collaborating partners and to approach the curiosity of visitors-tourists to archeological sites and museums with the technology of digitally processed information.
In addition to, aims to reinforce, support and strengthen the restoration of the historical and cultural heritage of the two cooperating countries (Italy-Greece) at the local and transnational level through new scientific technologies.
Within the project, a network (the HERMES network) will be developed, which will focus on activities aimed at the implementation of the virtual community HERMES, the preparation of a didactic book for schools, including theatrical experiences that will take place, as well as designing of a business plan on the viability of the cultural services model (HERMES).
More specifically, the objectives of the project are:
Τhe setup of cross border Hermes services model.
Carrying out of a theatrical supply and visual arts analysis in the two territories by identifying models and good practices.
Design of cultural routes by virtual pathways which increase cultural tourism promotion – it will be designed and created an educational based on interactive technology environment, available to any user through Internet, smartphones, etc.
Scouting actions aimed at the selection of 90 people in total that will be involved in the theatrical laboratories foreseen by the project.
The writing of a didactical manual for secondary level schools in three languages (Italian, English and Greek) and a joint book in English.
Set up of 1 virtual HERMES community that will work as a joint multilevel webplatform to enhance networking activities among artists, cultural associations, and organizations, as well as stakeholders.